Crest and Flag
The Crest the District of Chrzanów presents
On the dual shield into the column in the right red field there is a crowned white eagle,. In the left, blue field there is the figure of St. Nicholas in the red robe. He is holding three golden spheres in his rinht hand, in the left hand he has a crook.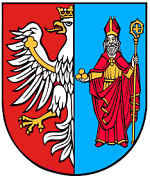 The History of the Crest
The crest of the District refers to the history and tradition of these lands. The crowed half-eagle in the right field alludes to the historic crest of Małopolska – a crowned eagle with golden band on the wings.
The figure St. of Nicholas in the left field refers to historic crest of the capital of the District, which presented in the blue field St. Nicholas in the pontifical clothes and red shield with the emblem of Półkoziec family(Chrzanów was owned by the Ligęzów family for many years,and their crest was the head of an ass). St. Nicholas is now the patron of the local church.
The Crest appears on municipal seals from about 16th and 17th century and It was used until the partition of Poland. Later It was changed - in 1966 the Crest referring to the tradition of the Varsow Principality (then modified in years 90). was accepted.
The Description of the Flag
The flag consists of three horizontal, parallel belts in white, golden and red colours, in its centre the crest of the District is situated according to rules defined above.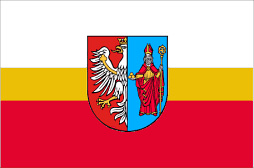 The Measurements of the flag
Width - 5, Length - 8

The Proportion of the belts
White 2/5, Gold 1/5, Red 2/5

The Measurements of the Crest
Width - 6, Length - 7
The justification
The connection of the flags of Małopolska with the Crest of District of Chrzanów symbolizes the membership of our District to Małopolska Province.